Catalogue
All our products are available in PDF format and a reader is
required to view.

LOOSE LEAF CATALOGUE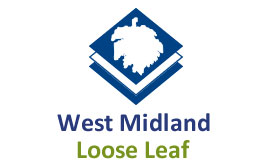 West Midlands Loose Leaf
West Midland Loose Leaf was established in 1970. Forty years on, we are one of the UK's leading manufacturers of loose leaf products.
From standard products to the most complicated specials in large or small quantities, we are able to offer a personal, friendly service, the highest quality products, a quick response to your needs and a competitive price.
We pride ourselves on our efficient production facilities and our extensive knowledge and experience in the loose leaf field.
This website is to offer advice regarding the types of products that can be manufactured but we are custom manufacturers - everything is made to order just the way you want it. Please phone to discuss your ideas or fax or e-mail your ideas and we'll get back to you with prices.